"There is a magnificent indoor [tennis] court at [East] Providence RI."
- William T. Tilden * The Art of Lawn Tennis 1921.
This is the History page of the Indoor Tennis Court or as Bill Tilden affectionately called it, "The Indoor Court".
This structure was built and designed specifically to be an indoor tennis court. On September 9, 1913, Miss Lyra Brown Nickerson purchased the land where the Indoor Tennis Court stands today from R. Clinton Fuller, the cost, $100.00. Construction began shortly thereafter, and the foundation was "nearly completed" by November 9,1913. The contractor was a Mr. Harry Grant. The original cost of construction of the Miss Lyra Brown Nickerson Indoor Tennis Court was approximately $20,000.00.
On October 31, 1914, Miss Nickerson held a "Tennis Ball" to celebrate the official opening of her new tennis court. At 5pm a tennis match began the evening's events. A buffet and dancing followed the match with music provided by an orchestra. More social events would follow. One notable event was a subscription dance to benefit the Belgium Relief fund. Held on December 5th, 1914, it raised over $300.00 for the fund. Sadly, less than two years later, Miss Nickerson would succumb to enteric fever on August 30, 1916.
The Providence Public Library and the Rhode Island School of Design received their largest gifts to date from the Miss Lyra Brown Nickerson estate. Each received over $3,000,000.00. In January 1917, the Indoor Tennis Court was sold to Malcolm G. Chace for $6500.00.** Later that year Malcolm G. Chace sold half of his interest in the Indoor Tennis Court, for the sum of $10.00, to Mr. John D.E. Jones. Mr. Jones was the winner of the court's first tennis match held on October 31,1914. Bill Tilden mentions the Indoor Tennis Court specifically in at least two of his books, My Story: A Champion's Memoirs, and, Match Play and the Spin Of The Ball. As the story goes, Mr. J.D.E. Jones had a son, Arnold W. Jones, of Providence, RI. The younger Jones was a very talented junior tennis player, and years later he would become a member of the 1928 U.S. Davis Cup team. During the winter of 1919, Bill Tilden practiced four times a week and sometimes more at the Indoor Tennis Court, often hitting with Arnold W. Jones. Tilden states in his book, "My Story", that he worked on his backhand every night in the fall and winter months of 1919-1920. Bill Tilden went on to become one of the greatest tennis players of all time. Tilden held the USLTA #1 ranked position for 10 straight years, an all time record for any male player. Only one other player holds a greater record. Martina Navratilova's #1 USTA ranking surpassed Tilden in 1992 and ended in 1993 with a total of twelve consecutive years.
A photograph of Bill Tilden at the Indoor Tennis Court, appears in Tilden's 1933 book, Tennis for the Junior player, the Club player, the Expert. One important point should be made here. Bill Tilden states that the "Indoor Court" is located in Providence, Rhode Island. The Indoor Tennis Court is actually located in the city of East Providence, Rhode Island.
William T. Tilden 2nd. Wasn't the first number one ranked player to visit the Indoor Tennis Court. On January 9th 1916, R. Norris Williams 2nd *** would play in an exhibition double's match at The Indoor Court. Williams played along with Harry Jones in a match against J.D.E. Jones and H.A. Mackinney. Dick Williams was a survivor of the 1912 Titanic disaster and he reached the USLTA's #1 position in 1916. A few months later in the spring of 1916, Miss Florence Ballin, along with International Tennis Hall of Famers Miss Molla Bjurstedt (Mallory) ****, and Miss Marie Wagner *****, accepted Miss Nickerson's invitation to participate in a weekend tennis exhibition.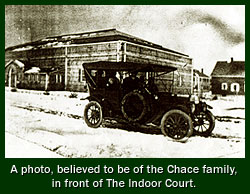 In 1947 J.D.E. Jones would give half of his interest in the Indoor Tennis Court to his son, Arnold W. Jones. The U.S. Davis Cup player became a 25% owner of the Indoor Tennis Court on 10/23/1947. Earlier that year, Malcolm G. Chace divided his ownership of the Indoor Tennis Court in two equal shares to his sons, Malcolm G. Chace Jr. and to Arnold B. Chace 3rd.
In 1957 Dr. Eugene Field and then Mr. Herb Stead became the next owners of the court. Some time after Herb Stead purchased the court, he took on a partner by the name of Charles E. Swanson.****** Mr. Swanson's name first appears on a deed for the Indoor Tennis Court, Inc. on October 20, 1960. Charlie Swanson was the tennis pro at the Agawam Hunt Club in Rumford, Rhode Island.
One of Charlie's first projects was to replace the court's original (battleship linoleum) surface. Today an asphalt base with a plexipave coating provides a comfortable and forgiving surface of moderate pace.
In 1976 Charles E. Swanson sold the Court to Edmund T. Anelundi. Eddie has taught tennis here for years. One of Eddie's most famous pupils was Jane Forman. Jane progressed to the professional level and reached an early round at Wimbledon in 1986, losing her match to Martina Navratilova.
I have been the current owner of the Indoor Tennis Court since 1990. In the early 1990's my brother Stephen provided tennis lessons at the "Indoor Court". Tennis lessons are still provided by certified instructors.